Lionel Messi returned home to a hero's welcome, with large crowds gathering outside his house in Rosario to celebrate him finally winning the World Cup with Argentina.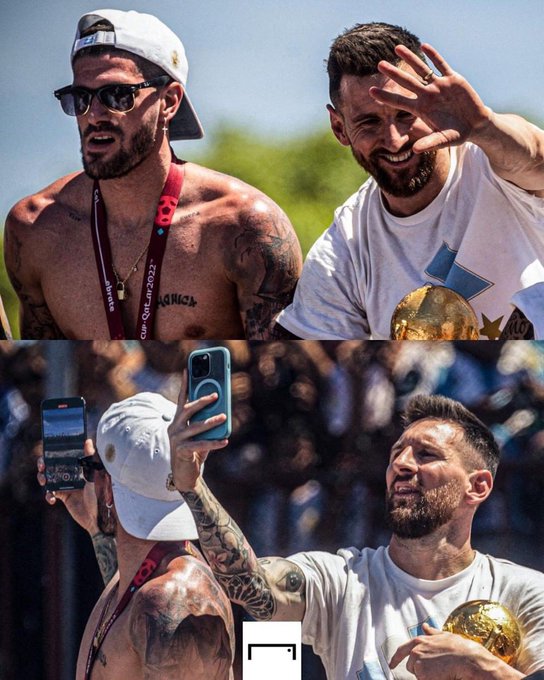 Though Piers Morgan hasn't been best-pleased with his social media posts, Messi has been lapping up the celebrations after getting his hands on the trophy which evaded him for so long.
He scored twice in a pulsating 3-3 draw with France in one of the best finals of all time, before Argentina prevailed on penalties at the Lusail Stadium.
Lionel Scaloni's side delivered a third World Cup triumph and the first since Diego Maradona lifted the gold in 1986.
The Argentina squad flew to the capital, Buenos Aires, for a customary trophy bus parade and it's estimated around 4 million filled the streets.
However the parade was halted prematurely for safety reasons after some fans tried to jump onto the bus from above.
Instead, as an alternative, the players flew over the city in helicopters. They would then return home to spend time with family and friends.
But if Messi was hoping for some peace and quiet, he was very wrong. When he and his wife Antonella Roccuzzo pulled up at their house in an Audi, huge crowds were waiting directly outside.
Hundreds chanted loudly for Messi and Argentina, with police and security trying to escort the seven-time Ballon d'Or winner to the door of his home.
The scenes were incredible and Messi looked a little taken aback by the reception that greeted him. Although unlikely, we hope he and his family are able to get some rest – and privacy – over the next few days.
Fans reacted to the remarkable ovation Messi received, with one writing: "What has Messi done He can't even get to his home without a crowd of people saying thank you. He has done something huge."
Another said: "Maybe Messi should have stayed at a hotel for a few nights."
A third added: "He's probably not going to be able to leave his house for days."
A fourth opined: "Being that famous must be a nightmare. The whole country knows where you live."
A fifth weighed in: "Madness must feel like an absolute god."
Messi has been clinging onto the World Cup trophy, even sleeping with the 18-carat gold prize. However it was not with him in Rosario as it has instead gone to the Argentina FA headquarters in Ezeiza.